No longer worry about droughts and floods? This seemingly whimsical idea has now become a reality with a high-tech product called "biological water absorbent." The product is now industrialized in our city Runtong Biological Super Absorbent Co., Ltd. Biological water absorbent, scientific name "absorbent resin", is a high molecular polymer. The product is in the form of powdery particles, each of which can absorb, retain water, and release water with an "appetite" that is hundreds or even thousands of times greater than its own weight. In spring sowing, as long as it is added to water in the proportion of 1:1500-2000, and mixed and implanted in the farmland with nests or drills, one "micro-reservoir" can be formed in the soil—the water can be released during drought. Adsorption of water makes it possible to preserve farmland from droughts and floods. In September last year, Professor Zhang Liansheng, the head of the Polymer Research Base at Heilongjiang University, invented the "Foam System Polymerization Method" to produce bio-absorbent technology and was successfully introduced by Runtong. The company invested 10 million yuan to build the first 3,000-ton capacity production line and quickly converted this major scientific research result into a product. The news spread wildly. The provincial agricultural science and technology extension station has set up seven demonstration sites for popularization and application in the province this spring. This product is used in the production of rice seedlings and economic crops such as fruit trees, edible fungi, and potatoes. According to relevant person in charge of the Municipal Planning Commission, the production of this product has been listed as a key project of high-tech industrialization in our city, and the second-phase project with an annual output of 10,000 tons of products is under preparation. According to experts, this biological water-absorbing agent production technology is the first in the world. It has obtained invention patents from 12 EU countries. The products can not only ensure stable agricultural production and increase production, but also increase farmers' income. They also have broad space for promotion due to low cost of use. According to calculations, the application amount of the product per mu is 1 kg, and the price per kilogram is 20 yuan. After the application, the yield per mu can be increased by at least 10-15%, and the farmers can obtain a minimum investment of 2-3 times under the premise of drought and flood protection. Return.
1.Good safety of gelatin-free.The first lyophilized Varicella Vaccine, containing no gelatin from animals, invented and produced in China. Getting rid of gelatin from varicella vaccine can significantly decrease the ratio of anaphylaxis incidence .
2.Long validity period by good stability. The first approved varicella vaccine with 36 months of validity period in the world. Adopting BH-2 stabilizer with own IP rights (Chinese patent granted No.: ZL200910138411.6, International patent application No.: PCT/CN2009/001405) greatly enhances the stability of the product and ensures the validity period for 36 months under the storage condition.
3.Better protection with high titer and immune eff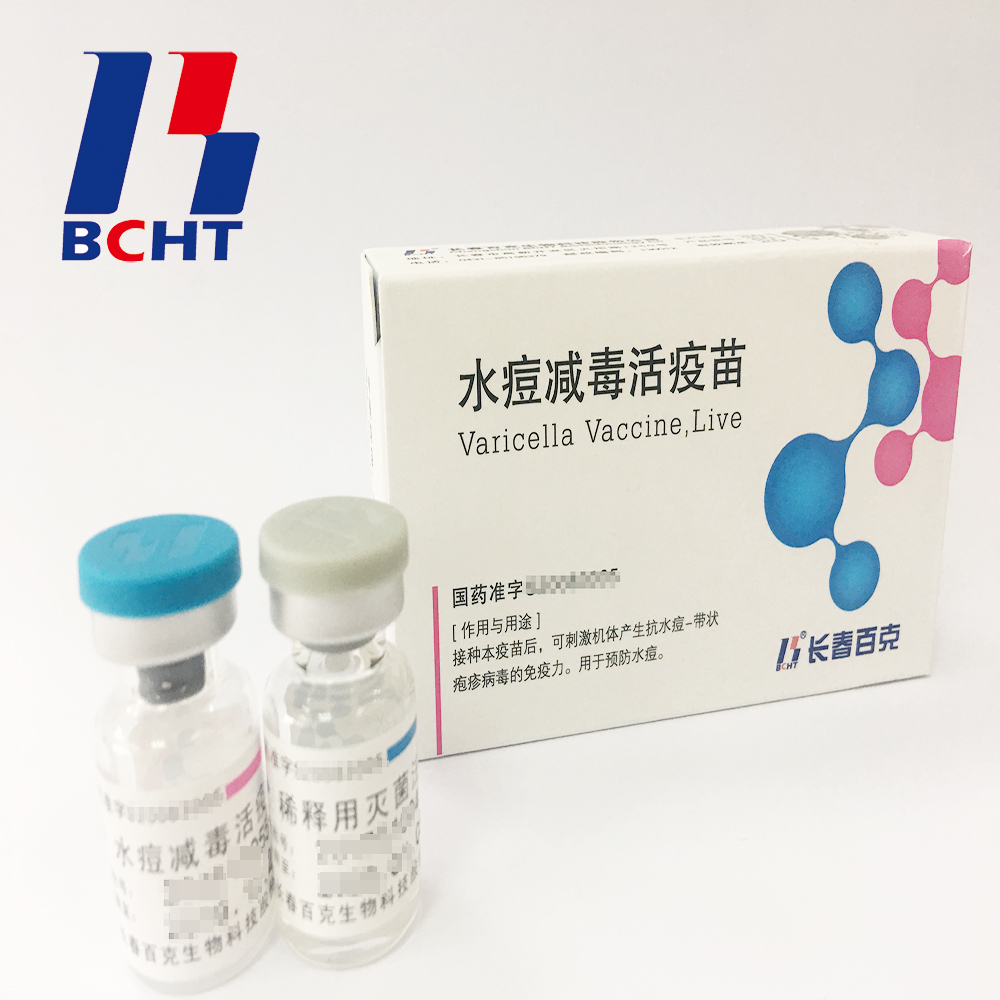 icacy. It`s documented that compared with the varicella vaccine of low titer, high titer vaccine can reduce breakthrough cases by nearly 75% in vaccination. Of all released batches of Varicella Vaccine from BCHT, the titers are not less than 10000 PFU/dose tested by National Institutes for Food and Drug Control.
Varicella Vaccine(Live)
Live Bioproducts Pharmaceutical,Live High Potency Medicine,Live Preventive Pharmaceutical,Varicella Biopharmaceutical Live
Changchun BCHT Biotechnology Co. , http://www.ccbcht.com